The Arduino will be the primary microcontroller platform that I will use for my electronics projects. The Arduino is an excellent platform with different boards and Atmel microcontrollers to suit most hobby needs. My personal board of choice is the Arduino Mega2560 and my posts will focus on that board but should in most cases be compatible with other Arduino boards as well.
Based on ATmega2560
54 digital input/output pins incl 15 PWM outputs
16 analog inputs
4 Hardware serial ports (UARTs)
16 Mhz Crystal Oscillator
USB connection and power jack
ICSP header
256KB flash memory (8KB used by bootloader)
8 KB SRAM
4 KB EEPROM
GET ONE NOW
Or GET FIVE NOW for a comparible price: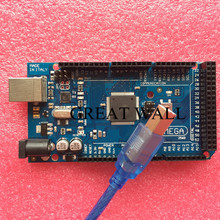 AliExpress.com Product – Mega2560 R3 ATmega2560-16AU (1pcs Board +1pcs USB Cable) 5 Sets Free Shipping With tracking number
Development support
Development tools for Arduino is free! Just head on down to http://arduino.cc/ for more.